As part of the "gesund.tirol" programme, the Standortagentur Tirol, together with the AIT and the Landesinstitut für integrierte Versorgung Tirol (LIV), is bringing HealtheBikes to the health and sports resorts "Das Sieben" and "Hohe Salve". The long-term goal is to get people moving and thus prevent classic civilisation diseases that can arise from a lack of exercise. The project is considered a first test run to see how health tourism infrastructure can be made available to both guests and locals.
In the current pandemic, telehealth services show the advantages and applicability of telehealth technologies in the treatment and care of patients in the context of therapy management. With the AIT telehealth solution HerzMobil, which is already part of standard care in the Tyrol and Styria, patients in Tyrol are also included in a telemedical training programme as part of the TeleReha pilot project by the LIV. The evaluation of the data collected so far by HerzMobil shows a significant decrease in hospital readmissions and mortality.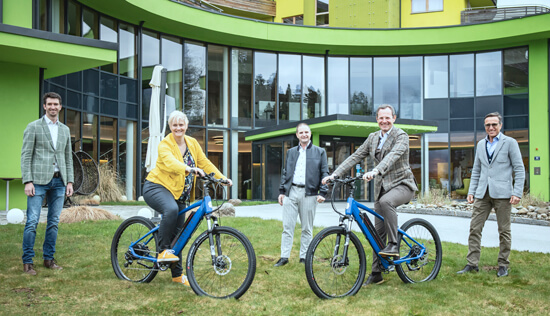 With the "Health-e-Bikes" project, this finding is now being applied to health promotion and prevention in the two Tyrolean health hotels "Das Sieben" and "Hohe Salve". AIT Telehealth expert Markus Falgenhauer, Competence Unit Digital Health Information Systems of the Center for Health & Bioresources, explains it like this: "Training outdoors with a bike depends on the route profile and group training leads to different levels of stress for the people exercising. Training support for everyday life with active workout prescription and control of the training data is made possible by HEALTHeBIKES by means of a special control system on an e-bike. The predefined training plan and the targeted control enable an optimal movement therapy, almost independent of the terrain. This is intended to reduce the inhibition threshold to exercise by bike and, above all, to enable training in a group with different levels of stress."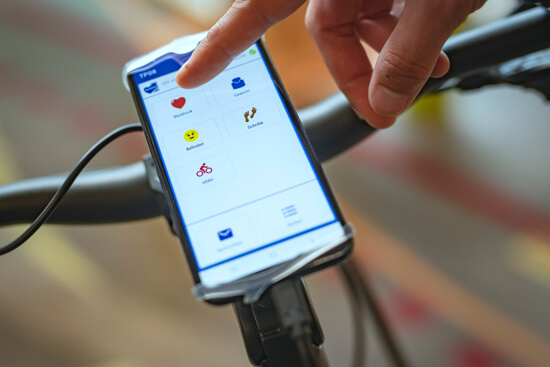 What is teletraining?
Telemedically supported exercise therapy can be used as an adjunct for numerous chronic illnesses or also acute events such as patients after heart bypass surgery, heart attacks or strokes. In the context of tele-rehabilitation, it enables new forms of rehabilitation as a combination of hospital stay and training in the home environment.  Telemedical training therapy using an ergometer monitors progress at home, increases motivation and thus adherence to therapy. The telehealth platform enables the supervising medical staff to create individual training profiles for ergometer training. The data is transferred via the internet to the smartphone of the person being cared for, from which the data is transferred to the ergometer via NFC. After a completed training session, the training results are sent back to the platform and can be viewed by the caregivers in graphical form. Based on all previous training results, the training profile can be adjusted accordingly if necessary. The HealtheBike expands the home ergometer training by offering the possibility to train in the fresh air and also in a group with the bike.
More Information: https://kit.ait.ac.at/home/